AN ANSWERED PRAYER THROUGH TRANSPORTATION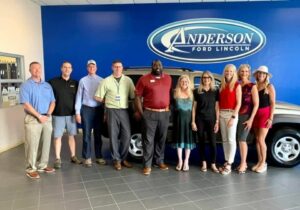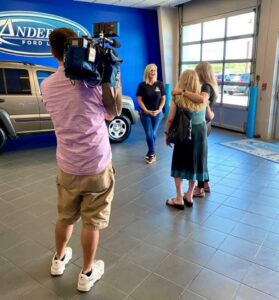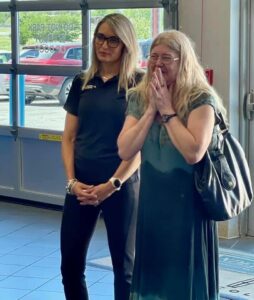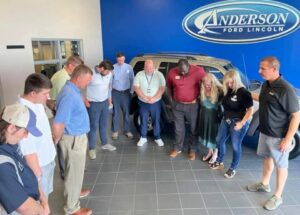 Debra rolled up to Anderson Ford in her vehicle that the windshield was cracked, windows not able to roll all the way up, and were covered with plastic to fight off in-coming cold wind, "squishy" brakes that were not cooperating, and nearly bald, worn down tires.
She was beaming as she motioned for Phoebe; a Chariots4Hope team member, to come over and check out what she had purchased to use when she got her new ride through the Vehicle Ownership Program. She had bought some beaded seat covers, and decorative items to make her next car look spick and span. 
Debra had mentioned in the past, with tears in her eyes, that she had been stared at and judged because of her car; and she was SO excited to get into something she could finally be proud to drive!
When they entered the Anderson Ford bay, Debra was SHOCKED to see a room full of people she didn't know, cheering and clapping, and a Jeep with a yellow bow on it! Debra was overcome with emotion and excitement.
Once she regained composure, she tearfully told everyone at the blessing that she had seen a vehicle EXACTLY like this, and prayed to God that she could have one! She didn't think she deserved it; and but she asked anyway.
God knows our desires and the number of hairs on our head. He fulfilled that prayer for her, and Debra is still driving this Jeep with a smile on her face, today.
She is now able to work part time, come to C4H community events, see her grandkids, and own a vehicle she loves to drive! Thank You, Jesus!
We often say, "you can't make this stuff up" at C4H. God truly has His Hand on this ministry! If you were inspired by this story, we can't encourage you enough to keep reading more stories, or consider joining the family. You'll never regret being a part of someone's life-change!
STAY UP TO DATE ON EVENTS, FUNDRAISERS, AND EVERYTHING ELSE HAPPENING AT CHARIOTS4HOPE
*By submitting this form, you agree to receive communications
from Chariots4Hope. Your email address will never be shared and
you may unsubscribe at any time. Read our privacy policy HERE.