JOY, FREEDOM, AND TRAGEDY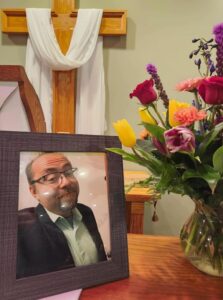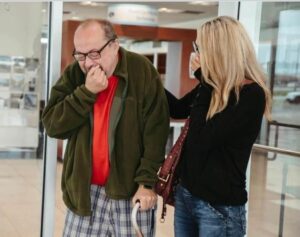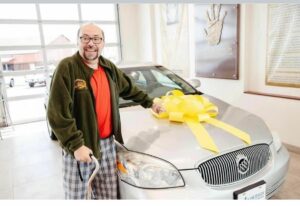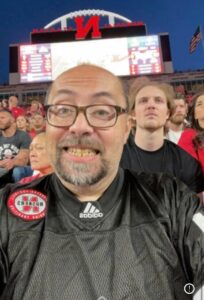 We just don't know how long we will have on Earth; or when our time will be up. You always hear that,  "Each day should be lived like it's your last" and "make the most of every moment". Meeting Jim Williams was a heart wrenching reminder of this.
Jim was referred to us by a long time family friend and employee at Anderson Ford, Christine Musich, who couldn't help but be moved by his story and hardships.
He was a college professor for most of his career. One fateful day, out of nowhere, Jim had three consecutive strokes, changing everything he considered to be "normal". He lost everything; his ability to walk, talk, move and drive. Losing his ability to make steady income (let alone teach as a professor), Jim was forced to give up his car and leave his home.
But Jim was never a quitter, and was prepared to do whatever it took to get back his mobility and communication. With INCREDIBLE determination, hard work, and by the grace of God, he was able to slowly regain the skills to walk, talk, and eventually DRIVE!
The day of Jim's surprise vehicle blessing will NEVER be forgotten! As soon as he entered the room and saw his car (topped with a Chariots4Hope yellow ribbon), he couldn't stop weeping. Having a dozen people all at once celebrating him not just for receiving a vehicle, but for overcoming SO many life challenges caused him to be overwhelmed with ecstatic joy. He could barely keep his composure! When he was finally able to speak, he let us know – through muffled tears – that he was so incredibly grateful and happy.
After receiving his vehicle through our RIDE program, Jim was able to secure a job, regularly sent us photos of him singing at Karaoke, went on dates, started going back to his beloved church family in Hastings, and drove to his FIRST EVER Husker game!
When Christmas came around, he called us to ask what the Chariots4Hope address was so he could send a Christmas card. He told us, "It's the least I could do. You changed my life."
A TRAGIC AND SUDDEN PASSING
Months after his blessing, we were informed that Jim had suffered a sudden heart attack, which took his life. This tragic news broke the hearts of our entire team, as well as those who knew him.
Jim had THE best smile! He had such a zest for life and lived with such joy every day. We are honored to have played a part in him experiencing FREEDOM, making beautiful memories after receiving his vehicle until the end of his life. We thank God for the time we were blessed to have with him.
We miss you, Jim!
We often say, "you can't make this stuff up" at C4H. God truly has His Hand on this ministry! If you were inspired by this story, we can't encourage you enough to keep reading more stories, or consider joining the family. You'll never regret being a part of someone's life-change!
STAY UP TO DATE ON EVENTS, FUNDRAISERS, AND EVERYTHING ELSE HAPPENING AT CHARIOTS4HOPE
*By submitting this form, you agree to receive communications
from Chariots4Hope. Your email address will never be shared and
you may unsubscribe at any time. Read our privacy policy HERE.