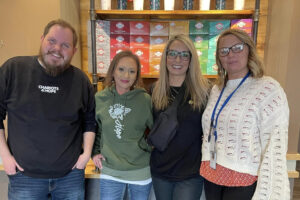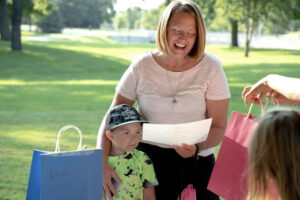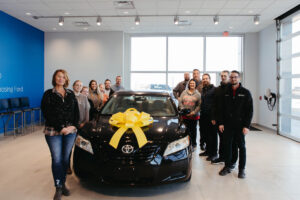 Sometimes you meet people who you can glean an immediate sense of genuineness and authenticity from. They let you into their heart space without time passing by, or loyalty being forged. They just feel deeply, and they share openly.
Julie is one of those people.
We first encountered Julie – a single mom struggling to make ends meet – when she was referred to us and approved for our RIDE program. The day of her blessing (the surprise event where recipients receive their vehicle), she opened up about some painful things happening in her life. Her identical twin had died from an overdose; which broke her heart and left her feeling like a part of her was missing. Julie also had been a therapist; and loved it, but got caught up in substances and toxic relationships.
At the time, she was going to work early every morning to make donuts and put out breakfast pizza; filling in when people needed it, working extra hours. Needless to say, Julie was EXHAUSTED. She was searching; and yearning for more.
Over time, Julie had achieved sobriety, but needed a vehicle to get her young son to school, to her appointments, work, and everywhere else. We were INCRERDIBLY happy to help her get into a reliable vehicle the day of her surprise blessing!
A year later, Julie is THRIVING! She recently reached out to us with an update, and a heartfelt message of gratitude. This is that message:
"Dear Chariots4Hope,
Thank you for blessing me with a car!! Since receiving a 2007 Toyota Camry in January 2022; God has continued to bless me. I started working for Lutheran Family Services as Peer Support Specialist in May 2022. Having a vehicle has given me freedom to have a flexible work schedule as well as transport my son to and from school. I continue to put God and my recovery first in my life, which allows everything else to fall into place.

I am currently studying for the Counselor Preparation Comprehensive Examination which will allow me to apply for my provisional license to practice counseling. My son continues to do well at his school. I am an active member of AA and enjoy sharing the journey of sobriety with the participants I support at LFS and Community Corrections.

Chariots4Hope is an organization I feel honored to call family; and hope to give back to this community as my recovery and wellness journey continues.

Thank you for blessing my life! In God's Amazing Grace,
Julie"
We love you, Julie!
#beyondthecar
We often say, "you can't make this stuff up" at C4H. God truly has His Hand on this ministry! If you were inspired by this story, we can't encourage you enough to keep reading more stories, or consider joining the family. You'll never regret being a part of someone's life-change!
STAY UP TO DATE ON EVENTS, FUNDRAISERS, AND EVERYTHING ELSE HAPPENING AT CHARIOTS4HOPE
*By submitting this form, you agree to receive communications
from Chariots4Hope. Your email address will never be shared and
you may unsubscribe at any time. Read our privacy policy HERE.