MEET THE FAMILY – REBEKAH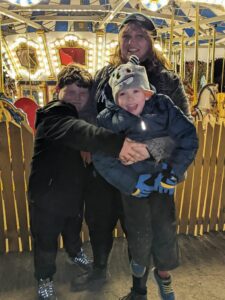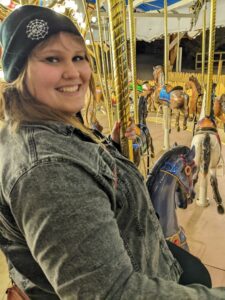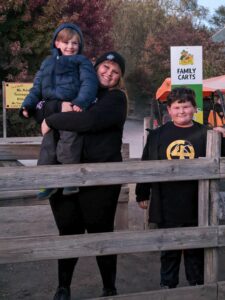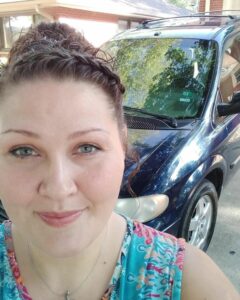 Rebekah started out as a general public call and won our hearts though her authenticity, powerful story, kindness and humor. She received an emergency grant from Chariots4Hope to fix her van and has since stayed connected.
We sat down with her to ask her a handful of questions, with the hope of getting to know her and her story even better!
I was born in York, Nebraska but when I was 9 we moved to Enon Valley, Pennsylvanian – Amish country. We actually moved on to an Amish farm with no indoor plumbing except cold running water and no electric… at least until the house was wired a few months later!
WHAT DO YOU DO FOR A JOB?
I am a caretaker for my neighbor and a full-time single mom. On call 24 hours a day 7 days a week on both counts.
HOW MANY KIDS AND PETS DO YOU HAVE?
I have five kids: Abigail & Hannah- 22, Xavier – 14, Eden – 8 & Abel – 5. We have three dogs: Shadow, an 18-year-old Chihuahua, Cash, Abby's 4-year-old German short hair pointer and JoJo, the boy's ½ Siberian husky & ½ American bulldog mix puppy that is 10 months old.
WHAT IS YOUR FAVORITE BIBLE VERSE?
Deuteronomy 31:8: "The LORD himself goes before you and will be with you; he will never leave you nor forsake you. Do not be afraid; do not be discouraged."
DESCRIBE YOUR TRANSPORTATION CHALLENGES/STRUGGLES BEFORE CHARIOTS
I had a vehicle that was having some significant issues (The motor mounts were broken) it was something I could not afford to fix myself which caused an immense amount of stress.
Being a single mom, I couldn't afford to be in a position where I was not able to go to the store, court or doctor's appointments for myself and the kids.
WHAT'S THE BIGGEST IMPACT C4H HAS MADE IN YOUR LIFE?
I know I have a tendency to bare my soul…. I hope this isn't "too big" of an answer but it is nothing short of absolute truth. Coming out of an abusive relationship that had me/us isolated for 8 years I have to say the biggest impact that being part of the C4H community has had on my/our lives has been the opportunity to be part of an amazing family, full of incredible people. It is something that is felt by not only me but my kids.
Connecting with people and having the opportunity to interact and participate in the events like Vala's pumpkin patch and the Christmas light bus tour. Experiences I couldn't afford to give my kids, as well as other events where we get to support each others victories and accomplishments, It is moving beyond words.
WHAT WAS YOUR SURPRISE BLESSING LIKE?
I contacted chariots for hope unaware there was a program to go through. Once Phoebe explained that to me, I hung up the phone and lost almost all hope that this assistance would even be available to me. Later that day my phone rang, it was Phoebe! She said that she felt God put it on her heart to help me and she wanted to hear about my situation… she got my whole life story, HA! I'm sure that's due to a combination of years of isolation and Phoebe's amazing personality that you automatically feel connected to.
She told me if I qualified for help that it would also connect me to their chariots4Hope community. I was praying hard. She called me back to let me know that I was one of only two cases that she had personally approved without going through the program!! It was yet another blinding example of the divine intervention that had been a very real force in my life for about a year at that piont. All I could do is cry.
No amount of saying thank you could have possibly conveyed the overwhelming gratitude I felt… I remember specifically telling her that as grateful as I was for the assistance with my vehicle and how life-changing that would be, the thing I look forward to most was being part of this amazing community
WHAT WOULD YOU TELL SOMEONE WHO WAS THINKING ABOUT SUPPORTING CHARIOTS4HOPE?
Don't hesitate. Chariots4Hope is such an amazing organization!! Not only are you blessed with reliable transportation, the alleviation of that stress and the freedom it provides, it is your ticket into a community that is more than a community, It is literally a family.
We often say, "you can't make this stuff up" at C4H. God truly has His Hand on this ministry! If you were inspired by this story, we can't encourage you enough to keep reading more stories, or consider joining the family. You'll never regret being a part of someone's life-change!
STAY UP TO DATE ON EVENTS, FUNDRAISERS, AND EVERYTHING ELSE HAPPENING AT CHARIOTS4HOPE
*By submitting this form, you agree to receive communications
from Chariots4Hope. Your email address will never be shared and
you may unsubscribe at any time. Read our privacy policy HERE.